Ordering meat online is easy and can help keep your freezer filled and your family fed.
Finding meat in the store isn't as easy as it used to be. Grocery pick-up or delivery services are overbooked and store shelves are empty. Now is the perfect time to be ordering meat online.
This post contains links to products we use. If you buy through the link we earn a commission.
Snake River farms ships nationwide and has quality meat to deliver straight to your door. Wagyu beef, Kurobota ham, and pork all sustainably and humanely raised on family-owned farm operation in Washington state.
Where to buy beef online
Thre are so many different beef cuts to choose from. Roasts, steaks, brisket, ground meat, and prime rib just to mention a few. Shop the whole beef selection at Snake River Farms Beef.
Snake River farms has meat in stock and ready to ship to your door!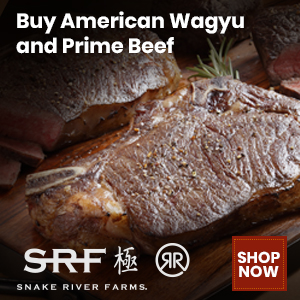 Where to buy pork online
Snake River farms have so many cuts and selections to choose from. Their meat is in-stock and ready to ship directly to you.
Where to buy chicken online
Good question. Perdue Farms is offering a free shipping deal, but their shipping is delayed three to four weeks right now. It may be best to stick to beef, pork and prepackaged meats right now.
FREE Shipping for U.S. orders over $119
Don't forget to check the Amazon Bulk Grocery and Restaurant food selections. Just be mindful of price gouging and don't overpay for things.
Where to buy Packaged meat online
Don't miss out on back yard cookouts or grilling. Stock up on burgers and hotdogs to feed your family.
Where to buy seafood onlinE
For Lobster lovers only! Have live Maine lobster and Atlantic fresh seafood delivered overnight to your front door.
Don't forget about meal delivery service
If you are tired of being in the kitchen or just need a break from the routine meal delivery may be the answer.
Real Eats delivers meals sous vie style right to your door. You boil the vacuum-sealed meal components and have a complete dinner ready in six minutes. We have used this often. Not available in all areas due to location.
Last week I enjoyed this Shrimp and Grits from Real Eats. My meal was ready in six minutes and absolutely delicious.
Gobble delivers healthy meals to your door that can be ready in 15 minutes or less. They are prepackaged healthy meals that you do some prep on and serve.
Gobble does the prep work for you. They provide par-cooked sauces, grains, and pasta, or pre-sliced vegetables and meat. Gobble dinner kits are designed to go from a kit to your table in 15 minutes.
This lets you say goodbye to grocery shopping, meal planning, meal prep, and all the clean up — leaving you to say hello to a restaurant-quality, home-cooked meal without the hours of preparation in the kitchen!
Gobble is not available for delivery in Minnesota, Montana, North Dakota, South Dakota, and Nebraska.
If you need beef, pork, ham or hotdogs you can find meat online to order. Ordering meat online is easy and can help keep your freezer filled and your family fed.